RECHARGEABLE BATTERY With SOLAR – This lantern uses a lead-acid battery with a capacity of 4V 1200mAh. It can provide continuous bright light for up to 6 hours making it ideal for camping and outdoors. Stay prepared on the road and at home by adding a solar-powered lantern to your emergency kit.
LONG HOURS WORKING, EASY CARRY HANDLE –This light gives long working hours in strong light, very useful in an unannounced or sudden power outage and lamp bead adopts energy saving. It gives continuous 6 hours working with its huge 1200 mah rechargeable battery.
MULTIFUNCTIONAL LIGHT For HOME & OUTDOOR – Every home needs such a best lantern. PERFECT GIFTS for MEN, FAMILY, and FRIENDS, the solar-led lantern is a multi-purpose essential whether as a work light, book light, reading light, or used as an emergency kit when the poor weather and outdoor activities. Very convenient for Hurricanes, Storms, Hiking, Camping, Fishing, Boating, Car auto emergency light, Shed, Attic, Garage & Power Cuts, etc.
ENERGY-EFFICIENT DESIGN & EXTENDED BATTERY LIFE – This emergency light provides uniform light throughout and has amazing battery life. It uses 32 Pcs LED to give perfect reading light. Create special evenings in the yard with a light that makes the fun last all night. Illuminate outdoor dinners, game nights, and more.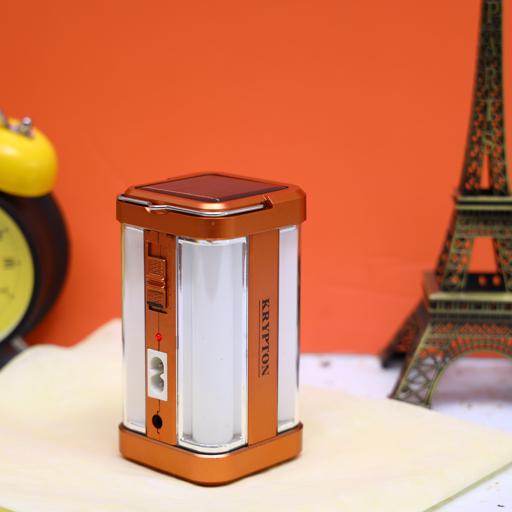 What is in the package: 1 X Krypton Rechargeable and Solar LED Lantern KNE5084 Brown